Automatic / Manual Call Recording
Analog, IP, Digital Phone Line Compatible
Call Assistant RG Software
Time/Date Stamp
Loop Recording | Expandable Memory
| | |
| --- | --- |
| Audio: | WAV | 32 kbps |
| Recording Modes: | Automatic / Manual |
| Memory Size: | 16GB |
| Recording Capacity: | 1024hrs |
| Battery Life (Record): | n/a |
| Battery Life (playback): | n/a |
RISK FREE
WARRANTY + RETURNS
NEED HELP?
CALL US + E-MAIL
The TR600 telephone call recorder will record calls on any analog, IP, or digital business phone lines. Set the phone recorder it to automatically record when a call is made or received. Telephone call recordings are stored on the included 16GB removable SD card. Calls can be played back on the TR600 phone recording device itself or you can remove the SD card and playback/store on any MAC or Windows computer; no extra software is required. For windows users, the included Call Assistant RG Software enables you to manage and organize your recorded calls.
The TR600 telephone recording device is a complete stand alone phone call recorder solution, it does not require the use of a computer or any extra software. Setting up the telephone recorder takes less than 5 minutes and then it essentially runs on autopilot (when phone calls are set to automatically record). The time/date of each recorded call is displayed on the LCD screen of the device; alternately each file on the SD card is organized in chronological order and stamped with the time/date.
The loop feature ensures that landline call recording is never stopped due to a full memory card; when the memory fills up, the newest calls are recorded over the oldest calls on the SD card. The phone number of incoming calls is displayed on the TR600 phone call recorders LCD screen (the phone line must have caller ID). Not is it a landline call recorder but it can also be used as a voice/meeting recording device.
AUTOMATIC / MANUAL RECORDING
Automatically records all incoming & outgoing calls; or choose to manualy record certain phone calls.
WORKS ON ANALOG, IP, DIGITAL
Can record on multiple types of landline lines which makes the TR600 a perfect fit for home or business use.
CALL ASSISTANT SOFTWARE
Stay organize with the Call Assistant software (windows users only); manage & organize all your recorded calls.
TIME/DATE STAMPED CALLS
The time/date is displayed on the TR600 screen and each audio recording is stamped with the time/date it took place.
CALLER ID
Displays callers information on the LCD screen (must have caller ID active on the landline).
LOOP RECORDING
Call recording never stops; if the call storage fills up, the newest calls record over the oldest calls.
EXPANDABLE MEMORY
It take a standard SD card and can support up to a 32GB card, which holds 2048hrs of audio.
MULTIPLE PLAYBACK OPTIONS
Playback recordings from the TR600 itself (speaker / headphone jack) or transfer/playback on any computer.
VOICE/MEETING RECORDER
Not just a phone recorder; it can also be used as a regular voice recorder to record meetings/lectures
RECORDERGEAR BRAND
RecorderGear has the most advanced, professional grade products on the market.
| | |
| --- | --- |
| Audio Quality: | 32 kbps |
| Audio Format: | WAV |
| Recording Modes: | Automatic / Manual |
| Time and Date Stamp: | Yes |
| Memory Size: | 16GB |
| Power Source: | Wall Outlet |
| Recording Capacity: | 1024hrs (16GB Card) |
| Battery Life (Record): | n/a |
| Battery Life (playback): | n/a |
| Headphone Jack: | Yes |
| Built-in Speaker: | Yes |
| Microphone Input: | Yes |
| Weight / Dimensions: | 5 oz | 5.7″x4.5x.2″ |
| Phone Line Compatibility: | Digital, Analog, IP |
| Compatibility: | MAC / Windows |
| Brand: | RecorderGear |
WHAT YOU GET
1 x TR600 Phone Call Recorder
1 x 16GB SD Card
1 x AC Adapter
2 x Phone Line Cables
1 x USB Data Cable
1 x Manual
- Call Assistant Software
Setup Video 1
Box Contents Explained
Setup Video 2
Line Configuration
Setup Video 3
System Settings Explained
| | |
| --- | --- |
| | |
| | Your browser does not support the audio element. |
| | Your browser does not support the audio element. |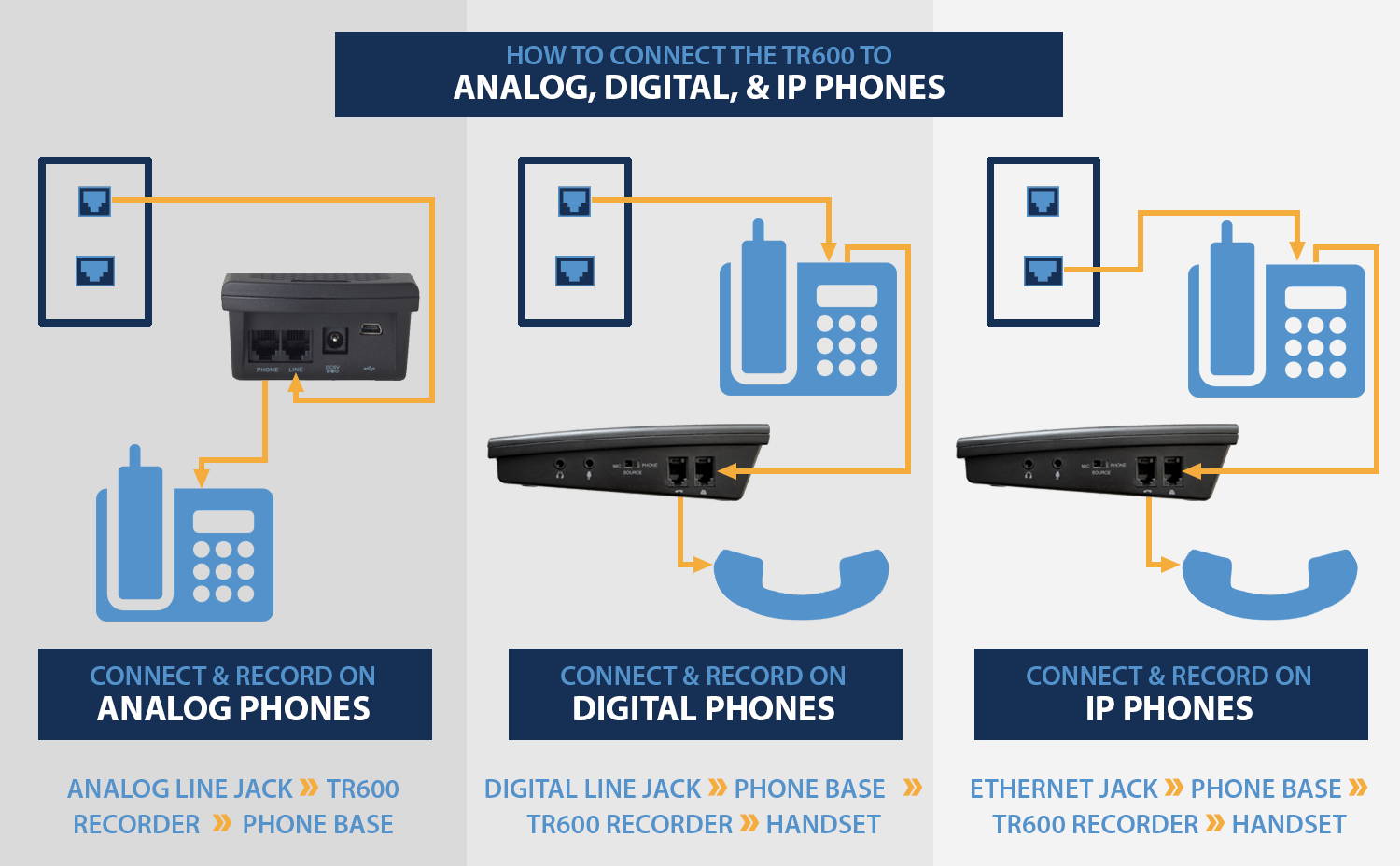 #1 WORKS ON ALL LANDLINES
Records on multiple types of landline lines which makes the TR600 a perfect fit for home or business use.
All incoming and outgoing calls can be set to record automatically. Simply set it and forget it, never miss a recording an important call.
Each audio file name can be stamped with the time/date that it took place; keep you recordings super organized.
LOOKING FOR SOMETHING DIFFERENT?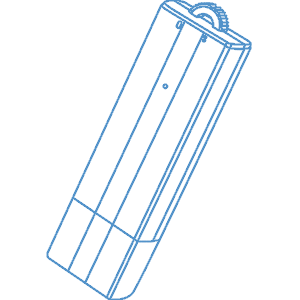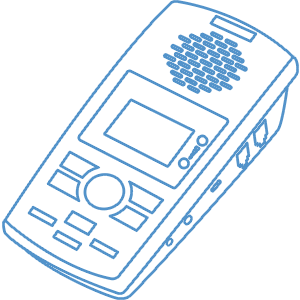 Still Doesn't Work
My original copy of TR600 failed in less than a year. I contacted "Penrecorderpro" about this, and they sent me a "replacement" which didn't work, either.
I have been writing them about this for WEEKS now, and they do not reply.
I am worried that they may be a scam, rather than a trusted manufacturer.
¡Me encanta esto! Justo lo que necesitaba xx
Parfait. Il enregistre automatiquement chaque appel téléphonique. Cinq étoiles!
Needed this for my small business. Does the job well. I give it five stars.
Box was bent in the shipment. Unexceptable. Other than a ruined box the device works great
The good thing about this phone recorder is that it works with any phone system. I am not technologically literate. I don't know what kind of phone system I use, for example. I'm that ignorant of technology. So when I explored the other phone recorders, I soon realized that they require the buyer to know what phone system they use and what its specifications are, etc. etc.
The TR600, however, works with any phone system, whether you know what your phone system is or not. They have a kind and patient customer service team if you have any questions, as well. I happily and gladly recommend the TR600.
Discrete recording. The person on the other line are not notified of being recorded unless you tell them. There is not a beep or an automated recording letting the other person know and so was very useful for me in recording scam artists and fraudsters.
Easily the best phone recorder ive ever used. If u need to record both sides of a phone conversation than I'd get this no question
Purchased to help us defend our elderly parent (with dementia) from aggressive telemarketers calling her private phone in her assisted living apartment. Our state is single party consent to record so we were comfortable using it to identify telemarketers who were violating the Do Not Call List or to take action if she inadvertently gave out personal information. The product is excellent. Research your state's legal requirements on recording. Great audio.